From 21 July until 17 August 2012, the Grote Kerk (Main Church) in Den Haag will be renamed the Volkspaleis (People's Palace). West will organize a multidisciplinary project for a wide audience offering the monumental video installation Asylum by visual artist Julian Rosefeldt, seating units by design atelier ROLU, spoken essays by the writer Maartje Wortel and a concert by the band Santa Cruz.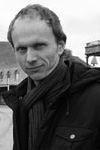 Julian Rosefeldt
(1965, DE) can be regarded as one the most important video artists on an international level. His work has been included in numerous collections and is frequently shown in renowned museums, all over the world. At Volkspaleis in the Grote Kerk and at West, Rosefeldt's work will be displayed for the first time in the Netherlands.
Rosefeldt's video installation Asylum in the Grote Kerk consists of a life-sized labyrinth, containing nine screens. Asylum is an installation made by 120 inexperienced actors, mainly asylum seekers. Rosefeldt combines analytic, sober thoughts about the power of the media, with an artistic view. Vacuuming Muslim women in a field full of cactuses, a group of Asian cooks doing useless work in the alienating environment of a monkey enclosure, and newspaper boys who try to keep order in their piles of paper in vain.
In those nine contemporary 'tableaux vivants', a deliberate politically incorrect study is carried out about the fear for foreigners, and in turn the yearning for the exotic. The scenes are confronting and cause the visitor to reflect about prejudices and relations with other groups in the population.
At West, on the Groenewegje, the complete Trilogy of Failure will be shown. The three 'multi-screen' films — The Perfectionist, Stunned Man and The Soundmaker — display universal themes, such as the absurdity of life and human obsessions. Time and again, the protagonist makes attempts to escape from standards, rituals and everyday habits, but all in vain. This provides poetic, slapstick-like situations with a cinematic back- ground.

Jörg Heiser
(1968, DE) is co-editor of frieze magazine, co-publisher of the magazine frieze d/e, writes for the Süddeutsche Zeitung and is a frequent contributor to art catalogues and publications. Heiser introduced the neologism 'super-hybridity' with a themed issue of frieze magazine (No. 133, September 2010), as a term for the process of accelerating the amalgamation of sources and contexts that feed into artistic production, to an extent that they are atomized and transformed into the seed of the next idea. A new essay on this topic will be published in the context of Volkspaleis.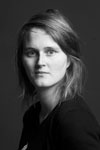 Maartje Wortel
(1982, NL) studied Image & Language at the Gerrit Rietveld Academie in Amsterdam. She has published short stories in literary magazines such as Passionate Magazine, De Brakke Hond and De Gids. Maartje Wortel made her debut in 2009 with a collection of stories called
Dit is jouw huis
(This is your house) at the publisher De Bezige Bij, and with this collection she won the Anton Wachterprijs, a price for the best prose debut. In 2011, her first novel was published:
Half Mens
(Half a human being).
West has asked Maartje Wortel to write new stories, especially for Volkspaleis. Wortel's autonomous stories will be available on MP3-players during the manifestation. The visitor can make his or her own choice in how to combine the four elements: the architecture of the church, ROLU's interior sculptures, Rosefeld's video installation and Maartje Wortel's stories.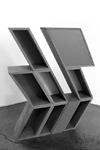 The American cooperative
ROLU
(USA), set up by Matt Olson and Mike Brady, focuses on designing installations, modern city sceneries and furniture.For Volkspaleis, ROLU will create a new object that is in response to the location: the Grote Kerk. ROLU specializes in the broadening of experiences and wants to take the visitors out of their comfort zone; using their 'lost and found designs', they cause a wavering between the parameters of design and art, and high and low culture.
http://www.ro-lu.com/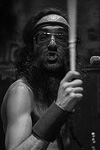 The music by
Santa Cruz
(NL) is characterized as the sinister successor of 'rock legend' Orange Sunshine. Both bands appeared on the Motorwolf label and they form an integral part of Den Haag underground music scene. The band Santa Cruz will provide an 'unplugged' performance, in which a metal-mantra will be combined with elements of gospel and trance. A modern devotional mass and likewise performance, which forms a perfect match with Rosefeldt's video installation Asylum. The concert will be announced on the website and on the Facebookpage of West.
Sunday 29 july 2012
12:00 — 14:00 hrs
Guided tour Volkspaleis + exhibition Julian Rosefeldt at West
7,50 euro (including lunch) -
make reservation
Wednesday 1 augustus 2012
21:00 — 23:00 hrs
Concert Santa Cruz, first acoustic qawwali drone edition
5,- euro -
make reservation
Sunday 5 augustus 2012
12:00 — 14:00 hrs
Guided tour Volkspaleis + exhibition Julian Rosefeldt at West
7,50 euro (including lunch) -
make reservation
Sunday 12 augustus 2012
12:00 — 14:00 hrs
Guided tour Volkspaleis + exhibition Julian Rosefeldt at West
7,50 euro (including lunch) -
make reservation
Julian Rosefeldt: Trailer Asylum
Julian Rosefeldt, 9-channel film installation

The central work in the Volkspaleis is the monumental film installation Aslyum by Julian Rosefeldt. In the Grote Kerk, nine life-size projection screens are set up in the form of a labyrinth. The films run continuously and the visitor can come in any time and walk around between the screens.



Volkspaleis — Philip Peters

There are dozens of ways of presenting art, which all have their own relevance depending on time and place, contents and audience, objective and commission. Under certain circumstances, art can and may function everywhere; immaterial values do not have to be put in their place. This also applies for art that is less accessible at first sight, although this art might not stand out well enough at every location, as sometimes some familiarity, or certainly affinity with the idiom is needed to be able to gauge the value of the subject, and not everyone shares that interest. On the other hand, it is also patronizing to show 'difficult' art solely in reserves (art institutes), where the people come who always visit these places; the entire community has the right to see the best.

In my opinion, a satisfactory solution has never been found to this dilemma concerning modern art presentation. This top-down approach, with which the elite tries to 'uplift the masses' by creating a larger familiarity with art, has resulted in large numbers of divergent educational approaches – varying from the 'art bus' in the districts to teaching programmes in museums – but all this doesn't get us very far; there is always just a minority that is interested. In theory, that is not a problem: everyone is free to strive for happiness in his or her own way. Moreover, dealing with art in a time of extreme consumerism might become even less popular: after all, time, concentration and effort are undoubtedly needed and these items are becoming increasingly scarce in the culture of the first quarter of the twenty-first century. And, on top of all that, when the government makes drastic cutbacks on arts – both part of the cause and a consequence of current populism – that does not help either.

When leaving out all the grey zones, visual art is shown in roughly two sorts of places: the art institute and the public space. The art institute is visited by professionals and otherwise interested people, in the public space art is rammed down everyone's throat. As it is, the public space is dominated by enormous amounts of visual rubbish anyhow, so that an extra work of art won't do any harm; but on the other hand, the work would be mixed with advertising and other signals with which it can hardly ever compete qua racket, in such a way that it is often not even noticed. This is not the place to hold an elaborate discourse about art in public space, but it's a fact that in the vast majority of cases, art is only consciously recognized, also in those places, by those who are in search of art anyway, and are particularly interested in unexpected moments of relatively outward modesty.

A third place might be: a building that people enter frequently for other reasons, but at the same time could host art in a less 'elitist' way than in a museum, and precisely less obtrusive than outdoors in the city. This has the advantage that it remains unexpected, but is nevertheless more explicitly visible than elsewhere.
Such a place is a home for the entire community, where at other times other activities take place; a building that is prominent and well known, but not defined for one obvious and univocal purpose.
De Grote Kerk (Main Church) in The Hague is such a building. Obviously, this is a church building, but not used as such anymore, whereas the religious aspects of the architecture recall the past. Throughout the year, shows, concerts, parties and a whole range of other activities are organised in this building, which qua content have nothing to do with each other, and reflect no special view on anything whatsoever: the room can simply be hired by anyone who doesn't mean any trouble. Once the building was the house of God, but now, in a sense, it is everyone's space: it is for the population of The Hague, including all the tourists. In addition, it is immediately recognizable for everyone, and geographically it is situated precisely in the centre of the city.
Throughout the period that art will be presented here, West looks upon the building as a Volkspaleis: a palace for everyone. In fact, an open space with style and appeal, where, in this period, anyone who walks in can look at works of art that do not necessarily reveal themselves as art. It involves a video installation by Julian Rosefeldt on nine giant screens, MP3-players with stories by Maartje Wortel and objects by the American design duo ROLU; impressions originating from everyday life, without providing a hermetic idea, impressions that are also accessible for those who do not know that this is the work of an artist. Those who do know, will probably discover more content and meaning, but everyone can experience these images in their own way.
The Volkspaleis is not bound to the Grote Kerk, next year it might just as well be located in the Binckhorst, or some other place. The Volkspaleis is not site specific, as the theme is not linked to a specific spot, but to an idea. An idea that is actually quite simple: the entire population is entitled to the best and that is presented in an unexpected place, where it doesn't redeem fixed expectations, but doesn't provoke either.
Philip Peters, 2012

Press release PDF (english)

Press release PDF (dutch)

Introduction text Philip Peters DOC (english)

Introduction text Philip Peters DOC (dutch)
Press images
All images courtesy Grote Kerk, West & the artists.
More images available on request.